Noticias
28 Jul 2022
Skandinavia IV - New development of apartments in the centre of Torrevieja, a few meters from the promenade and the beach of El Cura
If we had to highlight a new residential development on the Costa Blanca for its design, location and privileges, it would be Skandinavia IV, a modern building in Torrevieja comprising 29 high standard apartments just 600 metres from the famous Cura beach and its charming promenade, lined with beach bars, bars and restaurants where you can sit down for tapas and enjoy peaceful sea views.
Ultra-modern urban living just a stone's throw from the beach: this is the lifestyle that best defines this brand new development, Skandinavia IV, and one that only the most astute owners will have the pleasure of enjoying. The building is distributed in two staircases, comprising apartments of exceptional quality: from ground floor to fifth floor / penthouse with private solarium, as well as a communal rooftop area that includes a swimming pool with waterfall and a relaxation area for sunbathing and lounging.
All apartments have their own little terrace to unwind and take advantage of the natural sunlight. If you have a terrace on the Costa Blanca, you have a treasure. There is nothing better than having the first coffee in the morning with the beautiful Mediterranean light or lying in the hammock to take the coolness in the summer evenings, with the soft sea breeze in your face and that is so appreciated.
Choose the apartment model you like the most from Skandinavia IV, in Torrevieja: look at these incredible prices!
Living a stone's throw from the beach will comfort you, help you to reduce your stress and anxiety levels, and also improve your mood. That's why many people choose a coastal location for their holiday or new life. Skandinavia IV is in a very convenient location for relaxation. Following in the line of the other Skandinavias, it is intended to satisfy the most demanding tastes.
We have thought of all the details so that the owner finds maximum comfort: open design, bright interiors, beautiful terraces, glass balustrades, swimming pool and relaxation area on the roof, proximity to the sea... The houses range from 68 m2 to 95 m2, and most of them are 2-bedroom and 2-bathroom flats, except for the penthouse 5C which has 1 bedroom and 1 bathroom. In addition, the building will also have underground parking (extra charge).
One of the advantages of buying in Skandinavia IV is that you can find a wide range of prices to suit all budgets:
Ground floors from 189.900€
First floors from 199.900€
First floors from 209.900€
Third floors from 219.900€
Fourth floors from 229.000€
Fifth floors (PENTHOUSE + SOLARIUM) from 269.000€
You can check all prices and apartments for sale on our official website: https://amayproperties.com/en/...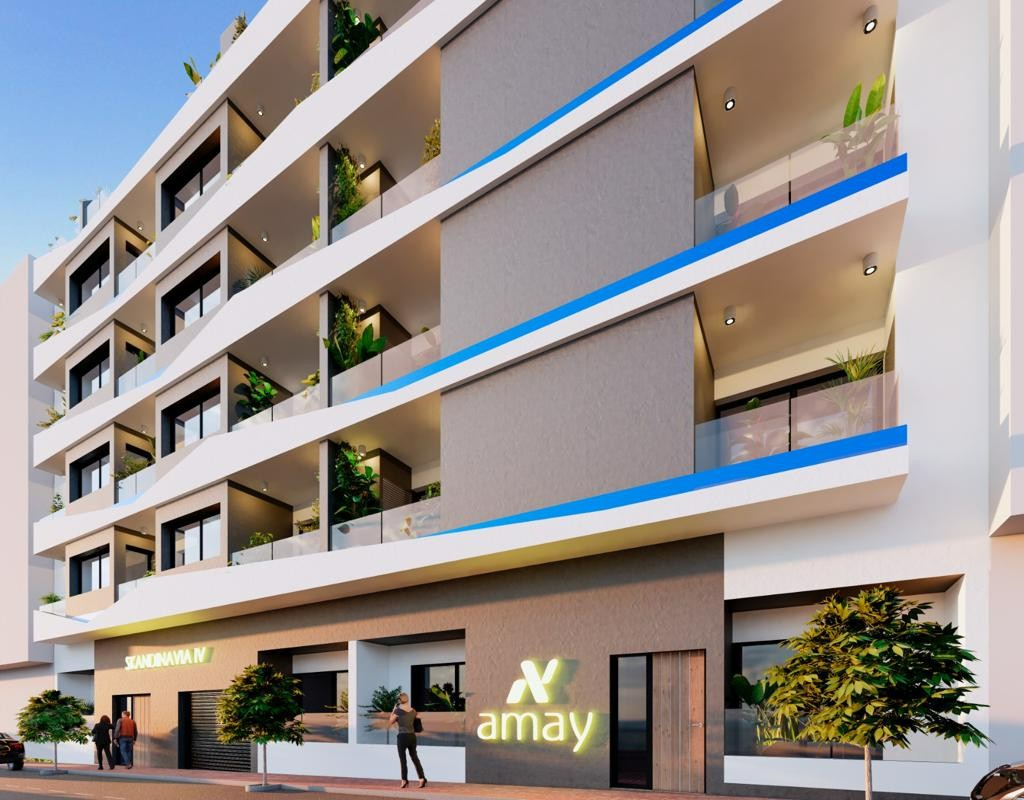 When will the keys of the Skandinavia IV apartments be handed over? We already have the dates: March and July 2024
Since the apartments of Residencial Skandinavia IV were launched for sale, they have aroused the interest of many people, and some of them have already become the first owners. We don't want to make to present and future owners wait too long and we already know when the dream delivery of the keys will take place:
March 2024 for the first staircase of 17 apartments
July 2024 for the second staircase of 12 apartments
If you want to ensure an exclusive holiday on the Costa Blanca every year in a new, modern apartment near the sea, come and discover this wonderful complex. Our agent Laura will be attentive at all times for any doubts or questions you need to solve:
Phone: +34 678 474 949
Office: Calle Radio Murcia nº 6, 03182, Torrevieja, Alicante
We are waiting for you!
Image gallery