Noticias
6 Aug 2021
Special offer of the week: These spectacular bungalows for sale in San Miguel de Salinas drop in price!
Are you looking for a good new construction opportunity on the Costa Blanca ? At Amay Properties we have launched a luxury offer so that you can brand new the home of your dreams without excuses. These three incredible bungalows at the Residencial Bellavista , in San Miguel de Salinas, can be enjoyed at a single price only during this week: discounts of € 10,000, € 35,000 ... and up to € 40,000!
Bungalow 13 A : from € 269,950 low to € 259,950
Bungalow 14 B : from € 249,959 low to € 215,000 with a FIXED COMMISSION of € 15,000
Bungalow 16 B : from € 340,950 drops to € 299,950 with a FIXED COMMISSION of € 20,000
Bellavista is a beautiful project of independent chalets and upper and lower floor bungalows with large terraces and a communal pool that hides dreamy corners. It is located in the most beautiful and green part of San Miguel de Salinas , just 7 kilometers from the beaches of Orihuela Costa, surrounded by golf courses and a large shopping center with restaurant services and shops of all kinds.
The properties are protected by an extensive area of Mediterranean forest, crops and trees that blend with the beauty of the Torrevieja lagoons and the Mediterranean Sea creating a magical environment. You will feel very lucky to have found such a peaceful and unspoiled corner in which to fall asleep and enjoy quality time with your partner .
Discover the spectacular interiors of these 3 new construction properties lowered
Waking up every morning or watching the sunsets accompanied by these incredible views of nature has to be a wonderful feeling. If the exteriors of these properties have seemed like a fantasy, their interiors are not far behind. Bellavista is one of the most successful promotions for its clean and orderly infrastructure, refined finishes, luxury extras and open distribution . These 3 beautiful discounted bungalows, one on the upper floor and two on the ground floor, have status and elegance in common, but they have some differences that should be noted:
Bungalow 13 A: the only top floor bungalow at this price .
https://amayproperties.com/propiedad/105/bungalow/nueva-construccion/espana/alicante/san-miguel-de-salinas/san-miguel-de-salinas/
Bungalow 14 B: ground floor bungalow with sunny terrace.
https://amayproperties.com/en/property/173/bungalow/new-build/spain/alicante/san-miguel-de-salinas/san-miguel-de-salinas/
Bungalow 16 B: fully furnished ground floor bungalow with a very large garden of 340 m2... with its own swimming pool!
https://amayproperties.com/en/property/174/bungalow/new-build/spain/alicante/san-miguel-de-salinas/san-miguel-de-salinas/
salinas/">https://amayproperties.com/pro...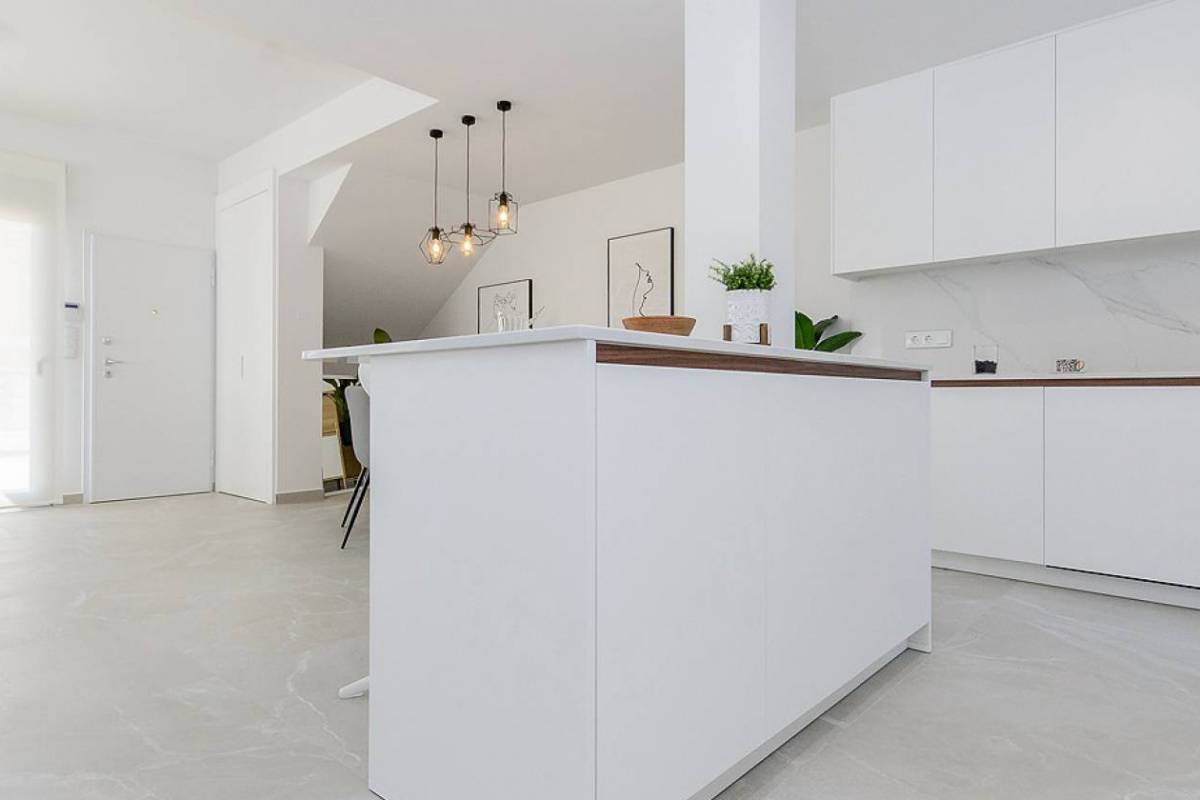 All of them consist of 92 m2 widely distributed in 2 bedrooms and 2 bathrooms with mirrors and glass partitions, modern kitchen with island and bright living room . In addition, it includes appliances, pre-installation of air conditioning, underfloor heating in bathrooms and security door. As you can see, the interior spaces are carefully designed with the use of large windows to allow an optimal entrance of natural light and create a beautiful harmony in all the rooms of the home .
These modern homes are completed with an outdoor garage, a storage room, a beautiful communal pool with fabulous views as well as a garden area for leisure. The luck of settling on the Costa Blanca (Alicante) is that you can enjoy one of the most beneficial climates, with approximately 2,500 hours of sunshine .
Take advantage of Amay's offer to buy a luxury house in Costa Blanca at a low price… Time is running out!
If you need to disconnect from the city and take a relaxing season , you already know a new place on the Costa Blanca where you can do it ... And at the best price! Contact Amay Properties before the offer expires and get your luxurious and coveted Mediterranean corner at a reasonable cost .
Telephone: +34 672 601 854 | +34 672 602 157
Email: info@amayproperties.com
Office: C / Ronda Cesar Canovas Girada, 12 03181 Torrevieja
Image gallery