Noticias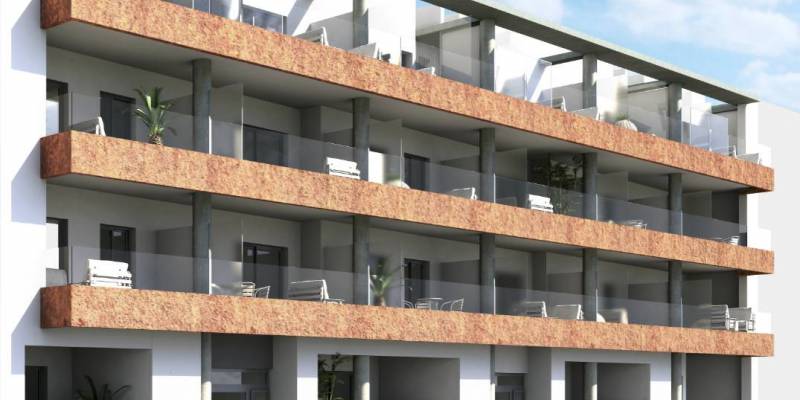 26 Jul 2021
City life just 50 metres from the sea: enjoy the perfect location of Skandinavia II Building, in Torrevieja
Located just 50 metres from Playa del Cura, in the heart of Torrevieja, this beautiful new building, known as Skandinavia II, rises in style to become one of the most exciting places to live a happy season by the sea. Its modern structure is divided into two four-storey blocks consisting of stunning apartments and penthouses with 2 and 3 bedrooms, 2 bathrooms with underfloor heating, large lounge room, open plan kitchen, private balcony and a beautiful solarium with leisure area and communal swimming pool.
One of the strengths of this fantastic new development is its privileged central and coastal location. In Skandinavia II you will be lucky enough to combine city life with all the essential services and a wide range of leisure activities, with kilometres of golden sandy beaches, clean waters and relaxing promenades.
This new residential development in Torrevieja is much more than just a holiday home, it offers a comfortable lifestyle featuring endless hours of sunshine, peaceful moments on the beach, lively entertainment, fun in water parks, bowling alleys, golf courses and recreation in the wonderful natural surroundings. Perfect for starting the day with a smile on your face!
These are the main reasons why you should move into this astonishing new development in Playa del Cura
Have you ever thought of moving to a sunny place next to a beautiful Mediterranean beach? Our sophisticated new build residential development in Torrevieja is located just 2 minutes walk from Playa del Cura, one of the best beaches in the area to enjoy with the whole family. Excellent lifeguard and security services make this beach a safer place to swim, as well as an attractive selection of bars and beach bars where it is worth stopping for the famous seafood paella.
A stay in the Skandinavia II complex will be enough to make you fall in love with the grandeur of Torrevieja, one of the most attractive places to live in Alicante for many reasons:
Stable and regular climate, classified by the World Health Organisation as one of the healthiest in Europe.
Scenery of urban beaches, natural rock pools and exotic coves.
Warm and ecological environment thanks to the incredible natural landscape of salt lakes and abundant native vegetation.
Bars, restaurants and leisure facilities open all year round for the full enjoyment of residents.
An exciting Nautical Club with luxurious restaurants overlooking the sea, beautiful yachts moored and fascinating nautical sports such as cruising, dinghy sailing, sport fishing and rowing.
For these and many more reasons, you will love to move into our modern apartment development in Playa del Cura - Torrevieja, with a beautiful communal swimming pool and pleasant outdoor areas (possibility of a garage and storage room). The penthouses enjoy a private solarium.
You can access the property file by clicking on the following link:
https://amayproperties.com/en/property/161/apartment-flat/new-build/spain/alicante/torrevieja/playa-del-cura/
Would you like to know more details about this comfortable residential complex just a few metres from the beach in Torrevieja?
The choice of colours, materials, finishes, lighting... Everything is ready for the owners of Skandinavia II to enjoy their longed-for apartment in Torrevieja, just a stone's throw from the Playa del Cura and its magical promenade.
For more pictures or any further information related to the property, please contact Amay Properties team:
Call us on +34 672 601 854 | +34 672 602 157
Send us an email to info@amayproperties.com Visit us at C/ Ronda Cesar Canovas Girada, 12 03181 Torrevieja
Image gallery